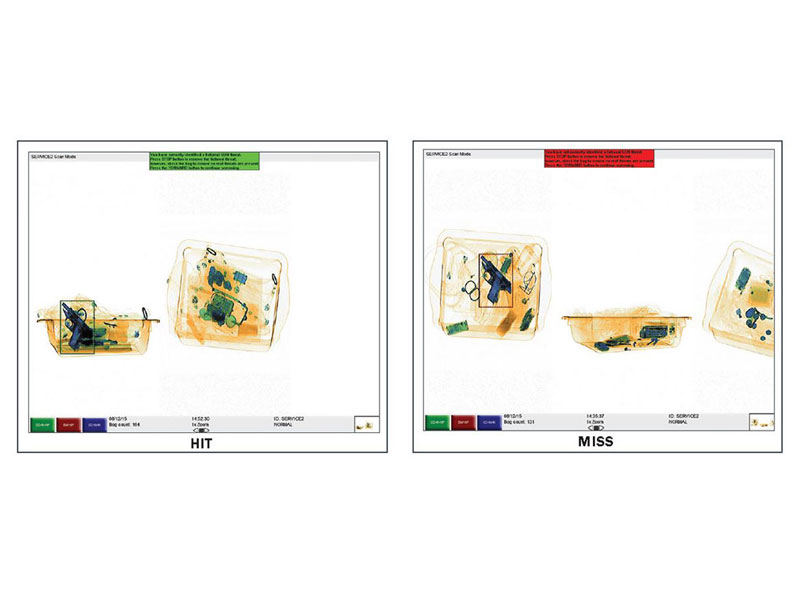 Train Security Personnel Faster

---

Create Informative Management Reports

---

Measure Checkpoint Performance

---

Continually Improve Security Operations

---
REPORTS
Supervisors can improve the effectiveness of the operators by creating management reports and taking targeted corrective actions to continually enhance performance. TIP management reports display the actual detection rate, HIT rate, MISS rate and false alarm rate (NON-TIP EVENT) for each security checkpoint. Reports can be created for individual team members and various stations so that training opportunities are quickly identified.
TIP functionality provides the option for users to receive visual feedback through an individualized summary report and response decision times. The screener also has the option to view a session report after logging off the system.
The display includes a mean performance report for current session as well as cumulative data for the current month. A Screener Comparison function compares screeners using criteria such as bag count, number of HITs, MISSs and Non-TIP Events.
TIP CONFIGURATION
The supervisor or manager may alter all settings associated with TIP configurations including:
TIP Frequency: Defines the frequency at which a TIP image is inserted in the baggage displayed on screen.
TIP Timing: Determines the parameters for the Initial Decision Time (IDT), Secondary Decision Time (SDT).
TIP Category: Allows for modification of FTI categories and TIP projection percentages.
TIP Library: Allows for addition and modification of TIP libraries.
NOTE: The Rapiscan Threat Image Projection (TIP) option provides a set of fictional threat items, intented to assist operators in improving their skills for system operation. TIP is a training and monitoring technology and is not intended for use as a sole method of threat object or concealment detection training.
All of the information contained in this informational sheet is subject to the disclaimers, limitations of liability and other terms contained
in the Software License Agreement associated with this Product. Please carefully read the Software License Agreement before using the
product.