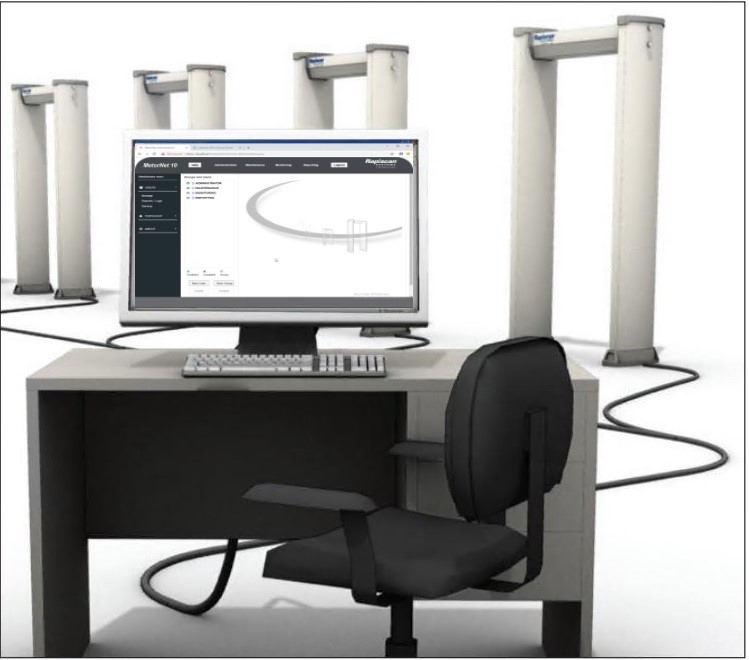 PASSENGER DATA COLLECTION AND STATISTICAL REPORTING

---

REMOTE CONFIGURATION AND MANAGEMENT

---

CENTRALIZED MONITORING OF SYSTEM AND PARAMETERS

---

OPERATE WITH MULTIPLE USERS SIMULTANEOUSLY

---
DATA COLLECTION AND STATISTICAL REPORTS
MetorNet 10 collects data from each person passing through the Metor walk-through metal detectors. This data can be summarized, shared by email or save in easy-to-read statistical reports. You can use either standard reporting templates or create and save your own reporting shortcuts for reports most commonly used.
COST EFFECTIVE
MetorNet 10 saves on operation costs by enabling efficient allocation of resources. It fits into an existing Ethernet network and the MetorNet 10 server operates on a Windows 10 Pro x64, also on virtualized OS. User interface operates over a standard web browser, to be used via desktop or laptop PCs, mobile phones or tablets.

REMOTE MANAGEMENT
Operating parameters of each networked Metor walk-through metal detector can be configured centralized. The security level can be immediately changed in the event of increased threat. Manage one or all units simultaneously.

MAINTAINING SECURITY THROUGH CENTRALIZED MONITORING
Monitors continuously the configuration and health of the networked units. Whenever there is a deviation from the maintained settings the operator is alerted instantly. In the event of system error or lost connection it indicates the status to the user immediately. Reporting of any changes in the status of all units without delays ensures the overall security is maintained.
MONITORS PASSENGER FLOW
MetorNet 10 allows you to see the traffic and alarm levels of the Metors. The monitoring view gives you a quick overall look of lines with high, medium or low traffic in a real time. This helps to allocate your resources better and statistical reports helps plan resources for long runs.
SYSTEM LAYOUT
Supports various network topologies including Local Area Network, Wide Area Network, Public internet (via VPN) etc. It uses Ethernet 10/100 Base-T network for communication allowing use of existing Ethernet infra at the customers premises. Multiple metal detectors can be connected to one network. The units can be grouped and identified individually and/or by group name. All MetorNet 10 client communication is TLS/SSL (HTTPS) encrypted.

OPERATOR MANAGEMENT
The operator profiles are created by the MetorNet 10 user manager. Each user belongs to one of the user groups. The user rights, views and accesses can be freely configured. Each user can have an individual password to prevent unauthorized access. The operator profiles
are managed by the system administrator. All operator events are stored into the event log.
Specifications
Available as Software package or Server package
SOFTWARE PACKAGE REQUIREMENTS
1 TB HDD, raid 1 preferred
Supports various network topologies
LAN, WLAN, WAN, VPN etc.