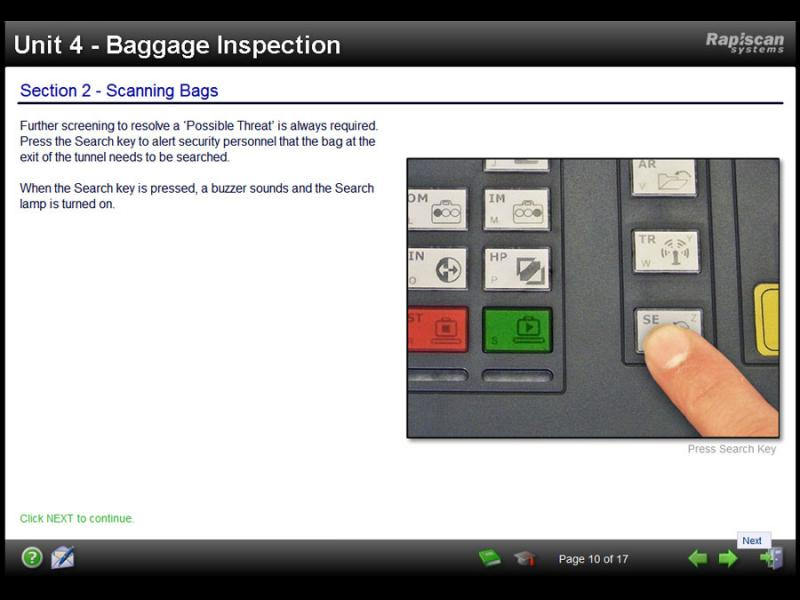 Computer Based Operator Training

---

AN EFFECTIVE SOLUTION FOR TRAINING ALL LEVELS

---

One license per PC, multiple users

---

Single database on a network server

---

Cost effective

---

Can be employed anytime, anyplace

---
TUTORIAL COURSE
The tutorial course readies operators to correctly operate the basic features of the Rapiscan® Systems 600 series X-ray systems.
Summary at the end of each tutorial and completed course.
Practice sessions within tutorial.
Glossary of definitions on each page.
Icon to identify specific objects being analyzed.
Ability to send messages to instructor at any stage during the course.
SIMULATION COURSE
The simulation course is an interactive training program that provides an opportunity for operators to apply their X-ray interpretation skills by means of an on-screen simulation of the system.
X-ray interpretation practice.
3-levels of increasing difficulty.
Review session.
X-ray interpretation final exam.
Specifications
Level:
Checkpoint Basic Training Software
Level:
Checkpoint Advanced Training Software
Level:
Mailroom Advanced Training Software
Level:
Mailroom Basic Training Software
Program:
Tutorial Course Only
Program:
Tutorial Course & Simulator